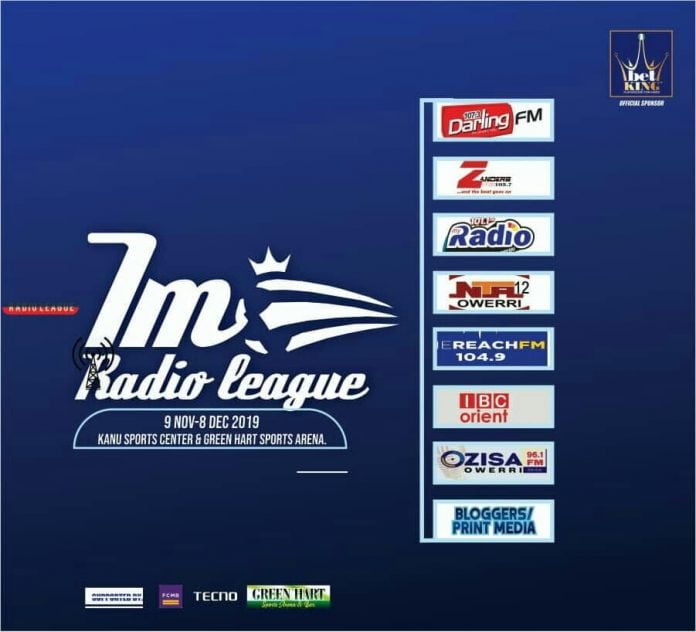 Radio presenters in Imo State will be witnessing a fresh kind of fun as they are about to partake in the maiden edition of the Imo Radio League Football Competition.
The tournament which will be starting on Saturday, November 9, 2019 has eight teams of four groups with one of Zanders FM and Reach FM expected to make history as first team to earn three points in the tournament.
Group A has Zanders FM, Reach FM, Darling FM and My Radio FM/Gold FM, while Group B has, Orient FM, Ozisa FM, NTA Owerri and Bloggers/Print Media. NTA Owerri and Bloggers/Print Media are participating as guests in the tournament.
At the draw of the tournament which took place at The Hives, Okigwe Road, Owerri, Imo State, on Wednesday, November 6, 2019, the Chairman of the planning committee, Mr. Cosmos hailed the sponsors of the tournament, urging his colleagues to make good use of the opportunity.
He stated that the main aim of the tournament is to bring staff of the various radio stations in Imo State together and also create a platform where instead rivalry, everyone will be working as one family.
The event which has betting giants Bet King as the major sponsor, also has FCMB and Tecno on the list of sponsors and winners will be parting with a trophy plus N200,000, while first and second runners up will be getting N100,000 and N50,000 respectively. There will also be a N30,000 participation fee for every team in the tournament which is expected to end in December 2019.
Meanwhile, the opening ceremony of the tournament will be preceded by a football match between the ladies of Zanders FM and Darling Fm by 2:00PM before the main kickoff by 4:000PM at Kanu Nwankwo Sports Center Owerri.
See full fixture
M-DAY 1: SATURDAY 9TH NOV 2019ZANDERS VS REACH FM – 4:00PM – Kanu Nwankwo Sports Center
M-DAY 2: SUNDAY 10TH NOV 2019DARLING FM VS MY RADIO – 3:30PM – Kanu Nwankwo Sports Center
BLOGGERS/ PRINT VS NTA – 5:00PM – Kanu Nwankwo Sports Center
WEDNESDAY 13TH NOV 2019 4:00PMORIENT FM VS OZISA FM
M-DAY 3: SATURDAY 16TH NOV 2019REACH FM VS DARLING FM – 3:30PM
NTA VS ORIENT FM – 5:00PM
M-DAY 4: SUNDAY 17TH NOV 2019OZISA FM VS BLOGGERS/PRINT – 3:30PM
MY RADIO VS ZANDERS – 5:00PM
M-DAY 5: SATURDAY 23RD NOV 2019ORIENT VS BLOGGERS/ PRINT – 3:30PM
DARLING VS ZANDERS – 5:00PM
M-DAY 6: SUNDAY 24TH NOV 2019MY RADIO VS REACH FM – 3:30PM
OZISA VS NTA – 5:00PM
M-DAY 7 – SEMI FINALS
SEMI FINALS SATURDAY 30TH NOV 2019
TOP GROUP A VS SECOND FROM GROUP B
M-DAY 8 – SEMI FINALS SUNDAY 1ST DEC 2019TOP GROUP B VS SECOND FROM GROUP A
M-DAY 9 – THIRD PLACE MATCH 7TH DEC 2019LOSER MD7 VS LOSER MD 8
FINALS 8TH DEC 2019