Inside Floyd Maywather's $19m mansion that has an array of world titles and collection of exotic wines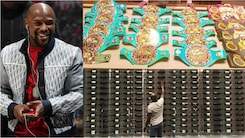 Floyd Mayweather has never been shy of showing off his wealth and recently flaunted interesting things in his £19million mansion.
The undefeated boxer with a 50-0 record is one of two sportsmen to hit the £1billion mark in terms of earnings from what he loves doing.
The 43-year-old gave an insight into one of his homes in Beverly Hills on social media, showing off what is inside.
It is understood that Mayweather paid an extra £370,000 on the mansion having made a staggering £74m when he fought UFC star Connor McGregor in2017.
In one of the pictures posted, hundreds of expensive bottle wines were lined up in his cellar for visiting guests who will have more than enough to drink.
The Money Man has regularly been spotted on camera drinking with huge wads of cash in his own night club.
Another photo shows him laying down on his couch in his lounge area with the caption "relaxing in 90210."
The five-weight division champion who world 15 major titles during his career also made the world see his array of belts lined up on a snooker table.