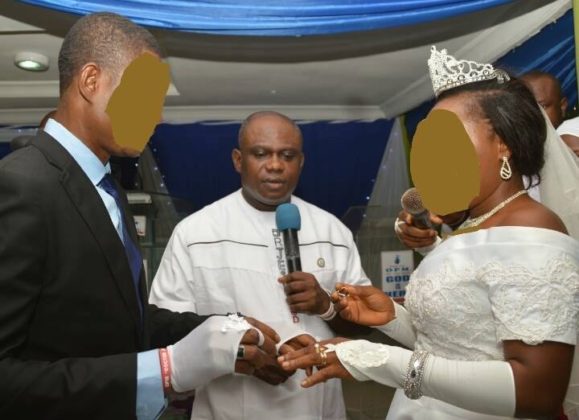 It was an incredible testimony for a seasoned commercial sex worker, who in September 2016 was among the commercial sex workers evangelized by the G.O of Omega Power Ministries (OPM), Apostle Dr. Chibuzor Chinyere, from a well known brothel in Diobu, Port Harcourt, to be happily joined to her husband.
According to the G.O, he said, part of his evangelism message to the converts, was a promise that he will not only provided accommodations for them, set up businesses for them, but to also participate and bankroll their traditional and church weddings, should any of them, in the cause of her services to God, find any man of her choice to marry.
The over excited bride in her reactions said,
"In my life, Saturday 28th September, 2016 can not be forgotten in a hurry. It was the day I met with the G.O in our brothel at Diobu, where my life was messed up with prostitution."
The groom said
"I knew this my wife some years back but have lost contact with her, I am not a member of OPM but I appreciated the good work of Daddy OPM. He sponsored my wedding and provided an accommodation for us to leave after the ceremony, he made my day worth celebrating. I pray God to continue to bless him and the member of the Church".