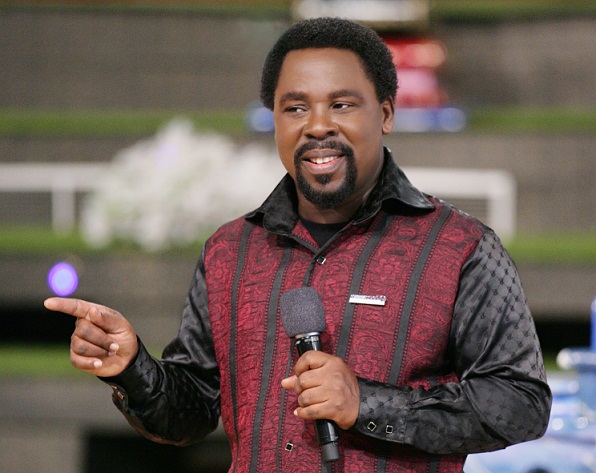 Nigerians dont joke at all oh, Immediately the news broke that Hillary Clinton lost the election they left the discusion on ground and started bashing Tb Joshua, So we Just went to his own facebook page where he Prophesied that Hillary Clinton would win the Election lo and behold he has deleted the Post.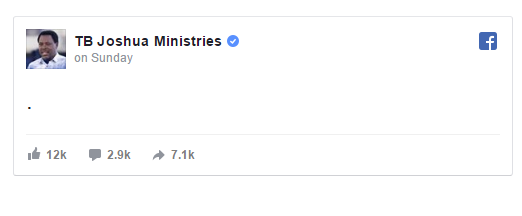 Well Read Some Of The Comments Below:
Evangelist Olufunmilayo Amosu Now, I believe there are FALSE PROPHETS. American's election 2016, what a Change! Trump's humbling speech.I will be fair to all.
Brie Taylor

TB Joshua's should stop prophecies and focused on just spreading the Gospel…hisss

Ahmed Mudashiru

Where is Joshua and his prediction on Hillary win???? Hope he is not hiding in a cave. Lol
Bola Haqq Royhan

T. b JOSHUA WHERE ARE YOU, SEBI YOU SEE WOMAN FOR WHITE HOUSE, ALL THESE LIEING SNAKES DECIEVING PEOPLE UP AND DOWN. THE WORST PART IS MORE GULLIBLE FOLKS WILL BE BOWING DOWN TO HIM COME SUNDAY.


Viktour Newton Joe TB Joshua said he saw a woman in the white house. Maybe he was being shown Trump's wife and the daughters. Lmaooo. Someone who couldn't even see his church when it was about collapsing na election for US he wan predict. Congratulation Sir Donald Trump. Let's make american and the entire world at large safe again.

#

SayNoToTerrosism

.
Richepin Raoul Ngwakeu

When i say TB Joshua is a fake prophet, people will doubt.. Open your eyes.
Airewele Sarah Odion

I always knew trump wuld win…:ahahahhahahahaha shame to all those who thought I didn't know wat I was saying.shame to men of God who made fake prophesies on d election,and happiness to drinks on bhalf of those professors who intend to tear their green card if trump wins.im feeling fly.pple fail to know dat d fact dat 70per of celebrities endorse a presidential candidate,does not guarantee a win.im so feeling fly.cum have a drink wit me everybody!